Periskal Radar Overlay is the best product for navigation on inland waters. The electronic chart and radar image are integrated into one image. This offers a perfect picture for navigation. Periskal Radar Overlay is a further development of the Periskal Inland ECDIS Viewer, our basic navigation software used on more than 6000 inland vessels. The radar image is connected with the navigation PC via a radar interface card in case of analogue radars or a LAN cable in case of digital radars.
You can upgrade an existing Periskal Inland ECDIS Viewer with the option Radar Overlay. Every inland river radar can be used. The product is certified by the Rhine Commission.The Periskal Radar Overlay distinguishes itself by the clear and easy user interface.
The systems works in Holland - Zeeland, the Rhine, the Danube and in harbour areas as well. The radar image is stored so you can analyse the image later in case of a collision.
The system is using a double screen, one of it is the radar screen itself. (With modern TFT radars ) On the radar screen you will find the combined image of radar and chart. On the second screen you will find an overview charts with AIS targets and extra information and additional functions.
What do you need for Periskal Radar Overlay
Periskal Inland ECDIS Viewer on a modern Intel i7 computer with Windows 10. For vessels navigating unther CCR/ZKR rules the PC is delivered only via Periskal as it has to certificated by us. A vertical oriented screen with a dimension of 19 inch minimum (1280x1024). For this screen you can use the radarscreen of modern TFT inland radars. The second screen must be similar.
Inland river radar "Certified River Radar"
Connection with Rate of Turn Indicator and GPS compass.
What does it cost
Periskal Radar Overlay costs 4.500,- Euro for analogue radars and 2.500,- Euro for digital radars (digital radar option not yet available in Rhine Area) like the Furuno RHRS 2014. It is available as option on the Periskal Inland ECDIS Viewer. The complete system has to be installed by a specialised technician.
Certificat nr: R-4-101
The Periskal Radar Overlay meets the requirements of the Rhine Commission, Danube Commission and European Union for such systems. This means the standards for Inland ECDIS, radar equipment and rate of turn indicators. The type approval has been done by the responsible authority : Fachstelle für Verkehrstechniken of the Wasser -und Schifffahrtsverwaltung des Bundes in Koblenz Germany.
€4,500.00 (excl. VAT)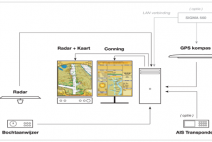 Helpdesk: +32 3 669 57 36